Message from the Chief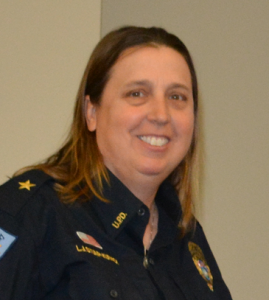 Thank you for taking the time to visit the University of Florida Police Department employment website. I am excited that you are considering the UFPD in your next career endeavor. Together we will protect and serve the University of Florida, and the Gainesville community.
I am extremely proud to be a part of such a progressive campus law enforcement agency. We are a state- and nationally-accredited agency established to provide the highest degree of safety and security possible for the UF community. We provide 24-hour-a-day patrol and protection of campus and local assets, enforce all laws and ordinances, and are committed to the prevention of crime and the protection of life and property.
Like many municipal, county, and state law enforcement agencies, we have a Criminal Investigations Division dedicated to investigating crimes occurring on our campus, as well as a Bicycle Patrol Unit, Critical Incident Response Team, four K-9 Teams, a Motorcycle Unit, Office of Victim Advocacy, Community Services Division, and other specialized units responsible for duties unique to the campus environment.
Below, you will find information about UFPD job opportunities, benefits and more. For any questions, please feel free to contact us at updinfo@admin.ufl.edu. The University of Florida Police Department is an equal opportunity employer.
Thank you,
Linda Stump-Kurnick
UFPD Chief and Assistant Vice President of Public and Environmental Safety
Working Together for a Safer Campus
At UFPD, we understand that hiring the best qualified applicants is a key activity in determining a department's operational effectiveness. Our personnel office works diligently in recruiting diverse and highly-qualified candidates.
The UFPD is an integral part of the university's dedication to developing and maintaining a safe and secure campus through the cooperative efforts of many university departments and community organizations. The UFPD is organized as a department of 89 sworn law enforcement officers and 72 civilian employees under the auspices of the Office of the Vice President for Business Affairs.
All officers are professionally trained and state of Florida-certified, with the same authority and right to bear arms as any officer within the state. The department provides a full range of police services, including investigating all crimes committed in its jurisdiction, making arrests, providing crime prevention/community services programs, enforcing traffic laws and maintaining crowd control for campus special events. The department maintains a close liaison with local, state and federal law enforcement agencies in implementing and coordinating campus law enforcement operations.