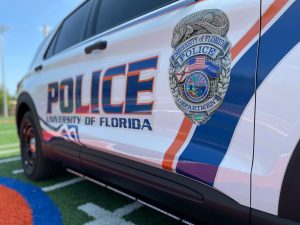 "I worked for a large Sheriffs Office before beginning my career with UFPD. I made the change because I liked the idea of serving a smaller community that I could get to know more intimately. I have served as the PK Yonge School Resource Officer, as a Detective in our Criminal Investigation Division and am currently assigned to patrol. UFPD has afforded me the opportunity to not only provide fantastic benefits for my family but also have a very diverse work environment. " — Ofc. Boland 
"As a Police Officer at the University Of Florida Police Department, I am able to meet and talk with people from all over the world. While currently assigned to the Patrol Division, I am able to patrol campus in a vehicle and bike. While doing bike patrol, it easy for students, staff and visitors to approach me for assistance or just to talk." — Investigator Sanders
"Prior to beginning my career at the UFPD, I walked the halls and sidewalks as an undergrad. I've always envisioned myself working in a field that encourages social interaction, public service and helping others.  As an Alumna and a Sergeant with the department, I am able to build rapport with students and staff with an understanding from both perspectives. Working at the UFPD has provided me with career development, exposure to networks and trainings, and the opportunity to build positive law enforcement relationships. I am able to meet and interact with individuals from all walks of life and all ages. I have had the opportunity to serve as the School Resource Officer and mentor and assist with coaching the basketball team, work in the Investigations Division and assist victims through a difficult time, and participate in programs such as RAD and Radkids witnessing first hand personal growth. These interactions and opportunities are what makes being in law enforcement priceless." — Sgt. Boone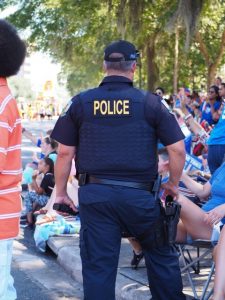 "Working as a Police Service Technician for the University of Florida Police Department is both rewarding and enjoyable.  I am able to work in an environment with professional people, and have met and assisted many of the UF students, staff and faculty on a daily basis, whether it be patrolling the Health Science Center or working the UFPD Front Desk. Having served in a similar environment in the United States Air Force, I look forward to coming to work each day knowing that I will be working with professionals who work together as a team to accomplish the UFPD mission. The UFPD Police Service Technician pay, combined with excellent State benefits, provides a great career opportunity whether you work your entire career as a PST or have aspirations of becoming a sworn Law Enforcement Officer." — PST Norris
"As a Telecommunications Officer, I came to the University of Florida Police Department from another agency, I chose to apply at the University for the possibility of career advancement and to further my career path. I enjoy working in my department and with all the wonderful officers that work around the clock to better serve the University. The University has an amazing atmosphere and is well diverse. It has been an amazing adventure for me and I look forward to the years to come." — PCO Dowell
"I've always worked in customer service. After my previous job closed their doors, I found this job to continue my skills. I'm a people person and enjoy walking around meeting and helping people stay safe. I have gotten to know a lot of faces. I enjoy my job as a PST and working with the police officers and health center faculty/staff and visitors." — Sr. PST Vinson-Brown 
"I chose to work for UPD because it provided me the opportunity to provide assistance to the community. My family raised me to believe in charity and good works and this job allows me to continue to do so, no gimmick required." — PCO Brinson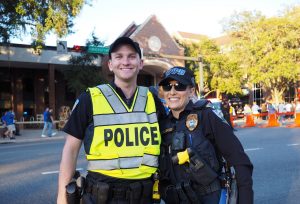 Hiring Military Veterans
The University of Florida Police department is dedicated to hiring military veterans. We salute and thank all the military veterans for their service. At The University of Florida Police Department, many law enforcement officers, non-sworn officers, and safety-related personnel have been successful in their positions as a result of their experiences and accomplishments they achieved during their military service.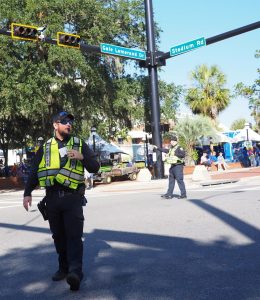 "I was fortunate that my final duty station prior to leaving the military was at the West Point Military Academy, and I became very familiar with working in a college environment as a law enforcement officer. This experience translated perfectly with working at the University of Florida Police Department. For the past 20 years, I have enjoyed working for the UFPD and serving this great community. There is no doubt that the training, discipline, and experience I gained as a soldier in the U.S. Army helped me achieve the success I have had all these years." — Ofc. Savona
"Joining the University of Florida Police Department right after exiting the military was the best thing I could have done. Just like the military, the comradery I found at UFPD gave me a sense of belonging and true love for this profession. As they say, "Do what you love, and you'll never work a day in your life". Working alongside dedicated, like-minded officers is a true blessing." — Ofc. Tarafa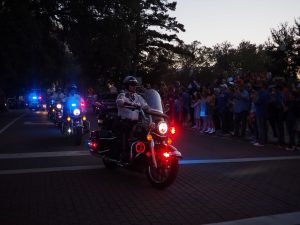 "Like serving in the military, this is not simply a job but a true profession. A profession staffed with like-minded, dedicated individuals who wanted to make a positive difference in their community and serve to make life better for all. As a soldier, I knew the sacrifices required each day and the preparedness needed to meet those sacrifices. This knowledge has helped me as a law enforcement professional at UFPD and is the basis for how I approach each day, prepared and ready." — Sgt. Lamb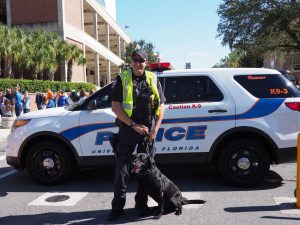 "The traits and training that I learned while proudly serving in the United States Marine Corps have assisted me in becoming a proud and successful member of the UFPD. These traits have helped me overcome and adapt to various situations that I have encountered and have assisted me each day on duty. My experience in the Marine Corps helped me stay prepared for whatever was thrown my way and to recognize that the unexpected requires instant decision making. The ability to quickly assess and make a quick decision is an essential part of being a law enforcement officer. In law enforcement, you always have to expect the unexpected and be prepared at all times both mentally and physically." — Ofc. Belleville
The University of Florida is committed to providing preference to all veterans as prescribed by F.S. 295.07 and F.S. 295.11. Military veteran applicants can claim veteran preference when applying for positions with the University of Florida Police Department. Please visit jobs.ufl.edu/applicant-resources/veterans for additional tools and resources for veteran applicants.