Student Community Oriented Policing Effort (S.C.O.P.E.)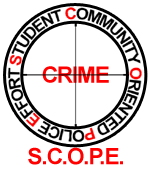 The primary mission of the University of Florida Police Department (UFPD) is to provide protection and service to the University community. The UFPD is committed to the prevention of crime and the protection of life and property; the preservation of peace, order, and safety; the enforcement of laws and ordinances; and the safeguarding of constitutional guarantees.
With community service as the foundation, the UFPD is driven by goals to enhance the quality of life, investigate problems and incidents, seek solutions, and foster a sense of security through programs reflecting the needs and desires of the community. The UFPD nurtures public trust by holding itself to the highest standards of performance and ethics.
The goals of the Student Community Oriented Police Effort (SCOPE) are to:
Create a crime prevention partnership between the University of Florida's Housing & Residence Life, resident students, and the UFPD.
Increase the visibility of the UFPD members throughout the various housing locations.
Inform the Housing personnel and resident students of variables influencing the level of crime on campus and recommend crime prevention methods.
Enhance transparency and communication between the Housing personnel, resident students, and the UFPD, thereby increasing the level of trust and understanding of one another.
For more information about your SCOPE Officer, please review the SCOPE Bulletin Board or electronic board posted within your residence hall or Graduate and Family Housing common area.