Administrative Support Division
Administrative Support Division
Welcome to the University of Florida Police Department's Administration Services Division web site. The members of the Administration Services Division, under the direction of an Associate Director, are responsible for a wide variety of tasks devoted to administratively supporting the mission of the University of Florida Police Department. We hope that you have the time available to view the information pertaining to these various sections. Remember, we will continue to expand and update our information as it becomes necessary so please be sure to check back often.
If you wish to contact the Administration Services Division, please feel free call (352) 392-9842 Monday through Friday 8:00 a.m.- 4:00 p.m. (except on university or national holidays) or write to the following address:
The University of Florida Police Department
Administrative Services Division
ATTN: Associate Director Ed Posey
1521 Museum Road
P.O. Box 112150
Gainesville, FL 32611-2150
Contact UPD
Records Unit
The University of Florida Police Department Records Unit is responsible for compiling, maintaining and disseminating information from department records regarding both incident and traffic crash reports. The Records Unit is also responsible for providing crime statistics to the Florida Department of Law Enforcement (FDLE) for the Uniform Crime Report (UCR) which in turn is used to provide an assessment for the level and types of crime which occurs on our campus.
As a state agency, the University of Florida is required to provide public records in accordance with Chapter 119 of the Florida Statutes (FSS 119). In order to effectively meet that requirement, the University of Florida hosts an online Public Records Center to make it easy to request general UF records or police records. It also provides a section with answers to frequently asked questions (FAQs) and a way for users to monitor the progress of their requests online. The portal for the Public Records Center can be accessed at http://publicrecords.ufl.edu/
While it is highly encouraged that those seeking public information use our on-line Public Records Center system, anyone wishing to make a request is not required to do so. In accordance with FSS 119, those requesting public information are expressly permitted by law to make requests in any manner they choose (verbal, written, anonymous, etc.). Citizens and media representatives can also make public records requests for incident or traffic crash reports by coming to our department during normal business hours Monday through Friday 8:00am-5:00pm or simply calling (352) 392-6651.
If you are interested in solely obtaining a crash report completed by the University of Florida Police Department, the most expedient way to do so is by going to https://services.flhsmv.gov/CrashReportPurchasing/ to request a copy of a traffic crash report.
Police Chaplains Unit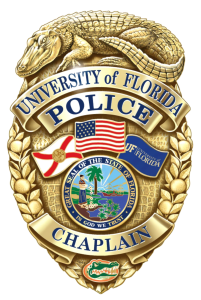 The UFPD is actively seeking qualified candidates to fill the role of Police Chaplain. If you have any questions, or to apply for the open positions, please see the contact information at the bottom of this page.
CHAPLAINCY UNIT'S VISION
The Chaplaincy Unit:
Responds to emergencies
Provides spiritual leadership and support to members of the UFPD
Establishes and maintains good working relationships with spiritual and community leaders
MORAL VALUES
The Chaplaincy Unit is committed to:
Upholding the highest standard in morality and spiritual integrity
Maintaining strict confidentiality
Encouraging ecclesiastical and ethnic diversity
Serving with professionalism
LAW ENFORCEMENT CHAPLAIN'S PHILOSOPHY
Believing that God is an answer to man's dilemma, the Law Enforcement Chaplain bears witness to the love and power of God for law enforcement officers, their families, other member of the department and the people they serve. Their pastoral care is offered to all people regardless of race, gender, creed or religion.
WHAT DO LAW ENFORCEMENT CHAPLAINS DO?
Chaplains serve at the discretion of the Chief of Police. They include representatives of all faiths who volunteer their time without compensation. Through their training, calling and professionalism a chaplain may be called upon to:
Respond to emergency situations such as:
Suicide
Death Notification
Officer Injury
Natural Disasters
Shootings
Fatal or Injury Vehicle Crashes
Demonstrations
Domestic Violence Disputes
Provide or Officiate at:
Weddings
Funerals
Prayers at formal functions
Liaison to other community clergy
Hospital visitations
Baptisms and dedications
Teach/instruct classes dealing with marriage, family, communication, etc.
CHAPLAIN REQUIREMENTS
Available for "Emergency On Call Duty"
Commit to 10 hours per month
Attend monthly Chaplain's meetings
Attend quarterly 4 hour trainings
CHAPLAIN QUALIFICATIONS
Must have five 5 years of experience in the pastoral ministry and be over 21 years of age
Must be licensed and or ordained in good standing with a local ecclesiastical body
Must never have been convicted of a felony offense, nor any offense involving moral turpitude
Must not be involved in any other business or profession that could be interpreted as a conflict of interest
UPCOMING TRAINING
The University of Florida Police Department will be hosting an upcoming Basic Police Chaplain Training. Participants will learn the core principles of Basic Chaplaincy by Certified International Conference of Police Chaplains Instructors. Read our Chaplain Flyer for more information. If you would like to register for the training, please download the Chaplain Registration Form, fill it out, and email it back to Detective Marcus Brinson at mbrinson@ufl.edu.
The University of Florida Police Department
ATTN: Detective Marcus Brinson
Building 51, Museum Road
P.O. BOX 112150
Gainesville, FL 32611-2150
Email: mbrinson@ufl.edu
352-273-3320
Contact UPD
Office of Professional Standards
Accreditation
The Office of Professional Standards at UFPD is responsible for maintaining compliance with all state and national accreditation standards as established by the respective accreditation commissions. The Law Enforcement Accreditation Program is recognized as the highest standards of professionalism. The standards evaluate all facets of the department including administration, patrol, investigations, personnel, internal affairs, prisoner security, traffic, and use of force.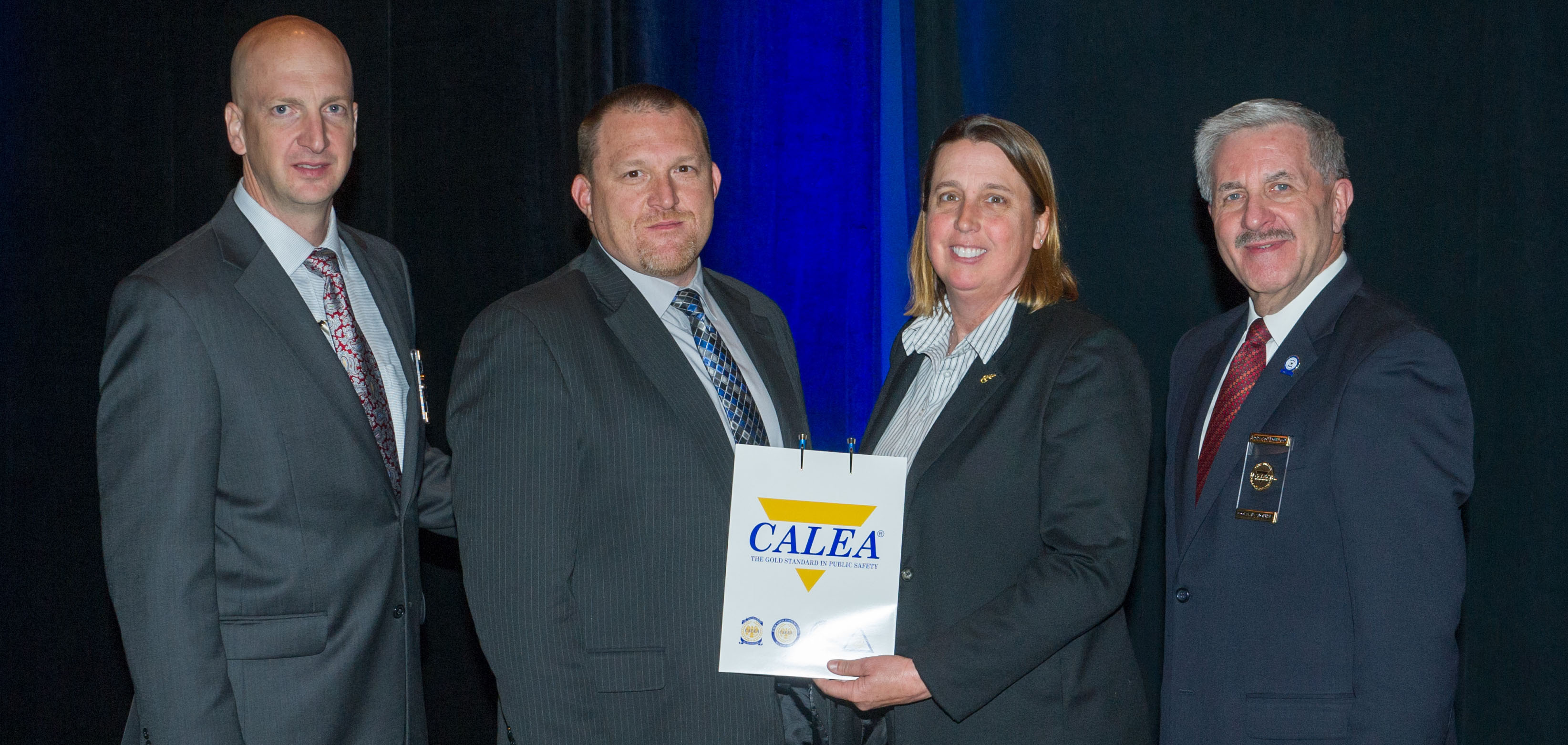 The UF Police Department was awarded its first accredited status in March of 1996 by the Commission on Accreditation for Law Enforcement Agencies (CALEA). Since, the department has grown to the fourth largest accredited university law enforcement agency. The department was recently awarded re-accredited status in March of 2017. The department has also received re-accredited status for the Commission for Florida Law Enforcement Accreditation (CFA) in June of 2018. Likewise, the department has re-accredited status with the International Association for Campus Law Enforcement Administrators (IACLEA) in March of 2017.
Internal Affairs
This Office provides fact-finding assistance to the Chief of Police and her staff through a systematic, objective and impartial method of investigating concerns regarding employee misconduct. For those who wish to make a complaint, please use the following survey and submit it to the University of Florida Police Department here: Customer Service Form.
The Lieutenant or designated internal affairs officer assigned to the Internal Affairs function is responsible for conducting investigations arising from allegations of employee misconduct or lack of performance, criminal investigations, use of deadly force incidents, and any matter as directed by the Chief of Police. All complaints received against UFPD or any employee will be documented, investigated and resolved by established procedures.
Complaint Disposition:
When the investigation or inquiry is completed, the employee in charge of the investigation shall classify his/her findings as follows:
Proper Conduct (Exonerated): Allegation unsubstantiated. The act or incident did occur, but the actions were justified, lawful and/or proper.
Improper Conduct (Sustained): Allegation substantiated. The act or incident did occur, and was inconsistent with policy or law.
Insufficient Evidence (Not Sustained): Insufficient evidence to prove or disprove the complaint or incident.
Unfounded Complaint: Allegation demonstrably false or lacks credible evidence.
Not Involved: Alleged subject of the complaint was not involved.
Policy Failure: The act or incident did occur, but no policy exists that addresses conduct of this nature.
The complainant and the affected member(s) shall be notified separately by letter from the Chief that the inquiry or investigation has been completed and informed regarding the results of the investigation.
Contact Information
If you wish to contact the Office of Professional Standards, please feel free call (352) 392-9584 Monday through Friday 8:00 a.m.- 5:00 p.m. (except on university or national holidays) or write to the following address:
The University of Florida Police Department
Office of Professional Standards
ATTN: Sgt. Greg Castronover
Building 1132, Museum Road
P.O. Box 112150
Gainesville, FL 32611-2150
Contact UPD
Training
The University of Florida Police Department (UFPD) recognizes that one of the keys to successful law enforcement operations is a police officer who is well trained and prepared to do his or her job at all times. Accordingly, the members of the UFPD Training Division, comprised of one Lieutenant, one Sergeant, one Field Training Officer, and one Program Assistant, continually work to ensure all aspects of law enforcement training are completed and documented. This training, conducted each semester while assigned to the UFPD, meets and exceeds the continuing education/training requirements as outlined by the Florida Criminal Justice Standards and Training Commission (FCJSTC). The members of the UFPD's Training Division are directly responsible for every element of employee training and equipment supply.
Every individual hired for any non-sworn position first undergoes initial training, ranging from 40 to 160 hours depending on the specific position, designed to familiarize the employee with department and university operations, policies, and procedures. The employee also attends several training sessions designed to assist the employee in the transition into his or her new position.
Those individuals hired for sworn law enforcement positions must first be eligible for sworn position certification as outlined by the FCJSTC. Once hired, all sworn staff members go through a detailed 160 hours of initial training designed to prepare the new officer for his/her duty and assess his/her ability to perform those duties. This initial four-week training conducted specifically with staff from the UFPD Training Division and other UFPD staff includes, but is not limited to, the following topics of discussion:
Weapons/use of force involving duty issued firearm, Taser, expandable baton, and pepper spray
High liability areas of law enforcement
Defensive tactics
First responder procedures to include CPR certification and use of defibrillator devices
Law enforcement driving techniques
Report writing
Investigative and interview techniques
Crime scene/evidence collection procedures
Once the officer has successfully completed this training, he or she is then assigned to a Field Training Officer (FTO) in the Patrol Division for a period of nine weeks. While assigned to an FTO, the new officer is trained, evaluated and continually assessed for their ability to perform the duties and meet the expectations of a UFPD law enforcement officer. We hope that you take the opportunity to read the information describing our FTO Program.
The FTO Program is just the beginning of training designed to prepare officers for their duties as law enforcement officers. Each officer also participates in quarterly in-service training as well. The in-service training is designed to provide officers, ranging from the most recently hired to the most senior experienced, with both annually mandated training requirements and enhanced skill training. The in-service training is also described in more detail on its separate web page so please feel free view it.
If you have any additional questions for or wish to contact the members of the Training Division, please feel free call (352) 392-8948 Monday through Friday 8:00 a.m.- 5:00 p.m. (except on university or national holidays) or write to the following address:
The University of Florida Police Department
Training Division
Training Commander: Lieutenant Scott Silver
1521 Museum Road
P.O. Box 112150
Gainesville, FL 32611-2150
(352) 392-8948
Contact UPD
Field Training Program
The new officer hired to work for the University of Florida Police Department receives a minimum of 160 hours of in-service departmental training. Included in this training is weapons and use of certification, defensive tactics review, law enforcement driving techniques, report writing, investigative and crime scene/evidence collection techniques, and emergency first responder refresher training. The University of Florida Police Officers are also trained in the use of the LifePak 500 defibrillator in conjunction with their bi-annual American Heart Association CPR training. The University of Florida Police Department is committed to giving our officers the training necessary to be prepared in any life-threatening emergency.
After completing the in-service portion of their training, the probationary officer is then assigned to a Field Training Officer (FTO). The new officer goes through an intensive nine week on-the-job training and evaluation period with FTO's on day and night shifts. The ultimate goal of field training is to expose the probationary officer to as many varied situations as possible in the prescribed time under the controlled and evaluated circumstances.
The Field Training Officer is a vital link in the training of new officers. The FTO must have a minimum of two years law enforcement experience. He or she must be in good standing with the department and have excellent knowledge/understanding of departmental policies and procedures. The FTO must also possess an in-depth knowledge of local, state, and federal laws and must demonstrate positive interpersonal skills, and the ability to work and help others.
The FTO works directly with the probationary officer on the road and in all the law enforcement situations they encounter. The FTO and trainee respond to the calls for service, conduct traffic stops, interacts with others on campus, and perform the everyday duties of other certified and trained officers. The FTO provides training as well as relays his or her own personal experiences in law enforcement. Also, while training with the three different FTOs, the trainee receives multiple viewpoints for a more rounded and fulfilling training experience
If you would like more information about our FTO Program, please contact Lt. Greg Streukens or Sgt. Scott Silver at (352) 392-8948.
Officer in-Service Training
The officers with the University of Florida Police Department are continuously trained and updated on the latest techniques and strategies in law enforcement. Through this in-depth training, the University of Florida Police Department strives to provide the finest security and protection to everyone within the university community.
The department's training mission is accomplished by making sure the officers receive the highest degree of training in a variety of required and recommended disciplines. Officer training, retraining, certification, and qualification is provided by over 20 different professionals employed as officers or investigators. The training of officers is a team effort that requires many hours of dedication by the trainee and the trainer.
University of Florida Police Officers receive mandatory training, retraining, qualification, and re-qualification on firearms, expandable baton, and OC pepper spray. All officers are trained in defensive tactics and the latest techniques of non-lethal use of force. Defensive tactics training also incorporates empty hand training and the use of communication skills in order to obtain the de-escalation of physical and nonphysical conflicts. Officers also receive precision driving training to ensure that each officer is highly skilled in defensive driving techniques.
It is well known that police officers are almost always the first to arrive on the scene of an accident or other personal injury. Accordingly, the university police officers are thoroughly trained in first responder and CPR techniques recommended by the American Heart Association. In an effort to better enhance the life saving capabilities of our officers who arrive on the scene of these situations, the department has trained all of its officers on the use of the LifePak 500 defibrillator. Through the use of this device, the officer can greatly increase the victim's possibility of successfully surviving a heart attack.
In addition to providing officer training, the Training Division also is directly responsible for ensuring that the officers of the department are equipped to safely perform their assigned duties. This equipment includes all uniform, firearm, intermediate weapons, radio and other items used to conduct their duty as a law enforcement officer.