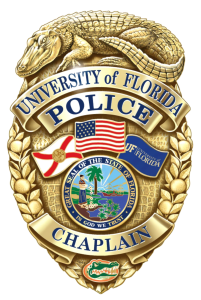 The UFPD is actively seeking qualified candidates to fill the role of Police Chaplain. If you have any questions, or to apply for the open positions, please see the contact information at the bottom of this page.
CHAPLAINCY UNIT'S VISION
The Chaplaincy Unit:
Responds to emergencies
Provides spiritual leadership and support to members of the UFPD
Establishes and maintains good working relationships with spiritual and community leaders
MORAL VALUES
The Chaplaincy Unit is committed to:
Upholding the highest standard in morality and spiritual integrity
Maintaining strict confidentiality
Encouraging ecclesiastical and ethnic diversity
Serving with professionalism
LAW ENFORCEMENT CHAPLAIN'S PHILOSOPHY
Believing that God is an answer to man's dilemma, the Law Enforcement Chaplain bears witness to the love and power of God for law enforcement officers, their families, other member of the department and the people they serve. Their pastoral care is offered to all people regardless of race, gender, creed or religion.
WHAT DO LAW ENFORCEMENT CHAPLAINS DO?
Chaplains serve at the discretion of the Chief of Police. They include representatives of all faiths who volunteer their time without compensation. Through their training, calling and professionalism a chaplain may be called upon to:
Respond to emergency situations such as:
Suicide
Death Notification
Officer Injury
Natural Disasters
Shootings
Fatal or Injury Vehicle Crashes
Demonstrations
Domestic Violence Disputes
Provide or Officiate at:
Weddings
Funerals
Prayers at formal functions
Liaison to other community clergy
Hospital visitations
Baptisms and dedications
Teach/instruct classes dealing with marriage, family, communication, etc.
CHAPLAIN REQUIREMENTS
Available for "Emergency On Call Duty"
Commit to 10 hours per month
Attend monthly Chaplain's meetings
Attend quarterly 4 hour trainings
CHAPLAIN QUALIFICATIONS
Must have five 5 years of experience in the pastoral ministry and be over 21 years of age
Must be licensed and or ordained in good standing with a local ecclesiastical body
Must never have been convicted of a felony offense, nor any offense involving moral turpitude
Must not be involved in any other business or profession that could be interpreted as a conflict of interest
UPCOMING TRAINING
The University of Florida Police Department will be hosting an upcoming Basic Police Chaplain Training. Participants will learn the core principles of Basic Chaplaincy by Certified International Conference of Police Chaplains Instructors. Read our Chaplain Flyer for more information. If you would like to register for the training, please download the Chaplain Registration Form, fill it out, and email it back to Detective Marcus Brinson at mbrinson@ufl.edu.
The University of Florida Police Department
ATTN: Detective Marcus Brinson
Building 51, Museum Road
P.O. BOX 112150
Gainesville, FL 32611-2150
Email: mbrinson@ufl.edu
352-392-6652
Contact UPD