The UFPD Patrol Division is the largest division within the police department, and provides the highest level of security 24 hours a day year around.
Our officers provide a wide range of services and can be found on:
Headed by an Associate Director with the rank of Deputy Chief, there are 65 sworn officers assigned to this division, including one Major, one Captain, five Lieutenants and eight Sergeants. All members of the Patrol Division are equipped with the latest in law enforcement equipment and, as with all of our sworn officers, are required to complete annual mandatory training established through the Florida Department of Law Enforcement, accreditation standards, and our own departmental directives.
If you wish to contact the Patrol Division, please feel free to call (352) 392-1111 at any time. We are temporarily located at the Ayers Medical Plaza at 720 SW 2nd Avenue. You can also write to us at:
The University of Florida Police Department
ATTN: Patrol Division Commander, Captain Kristy Sasser
1555 Museum Road
P.O. Box 112150
Gainesville, FL 32611-2150
Bicycle Unit
An integral part of the University of Florida Police Department's Patrol Division is its bicycles specially designed for continuous high-stress use and training.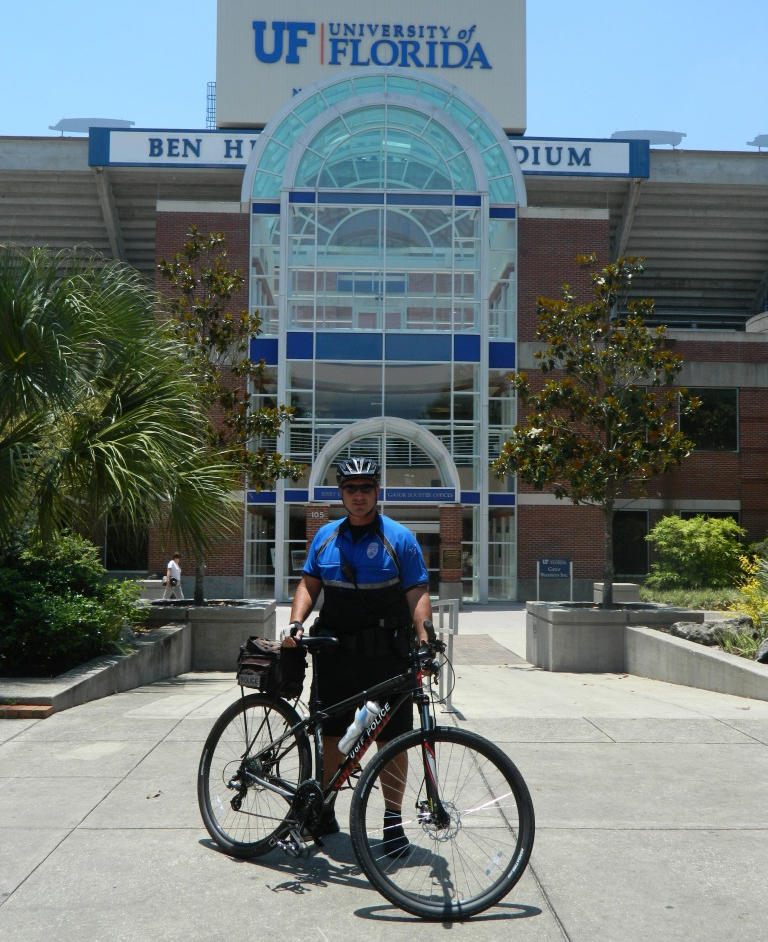 All UFPD officers attend a 40-hour law enforcement mountain bike training course. The course teaches officers bicycle laws and maintenance, health and nutrition, basic and tactical riding skills, and firearms training. The University of Florida Police Department also offers the course to all local law enforcement and emergency medical teams
The use of manual and electric bicycles has proven to be an effective law enforcement approach. Officers on bicycles can navigate the congested areas of campus and respond to emergency calls for service much faster and more efficiently than those in automobiles. Each Bicycle Officer is highly visible while patrolling campus and can more easily provide enforcement and education on bicycle and pedestrian traffic laws. Bicycle Officers can also travel in areas where a patrol car would be unsafe or impractical to use.
If you would like more information about the UFPD Bicycle Unit, please contact the UFPD Public Information Officer via email at UPD-PIO@ad.ufl.edu.
Communications
The University of Florida Police Department Communications Division is critical to the efficient functioning of UFPD. The Communications Division is staffed by Police Communications Operators (PCO) that are certified by the State of Florida Department of Health and Florida Department of Law Enforcement. All PCO's are cross-trained as call-takers and dispatchers responsible for supporting, mobilizing and managing law enforcement and other public safety resources 24 hours a day, 7 days a week.
Call-takers primary responsibilities are answering and screening law, fire, medical or other emergency calls for services, recording essential information into a computer aided dispatch (CAD) system and transmitting information to a dispatcher.
Dispatchers primary responsibilities are to assign first responders to reported calls for service disseminating pertinent information and instructions to the closest resources.
Additionally, the Communications Division monitors all fire and security alarms, as well as emergency blue phones.
Law enforcement resources are tracked and managed by utilizing an 800 megahertz trunked radio system to communicate with members of the department and other local law enforcement agencies.
The Communications Division answered 55,654 telephone calls that resulted in 27,409 calls for active service during the fiscal year 2014-2015 and processed 87,497 Florida and national crime information inquiries during this same time period.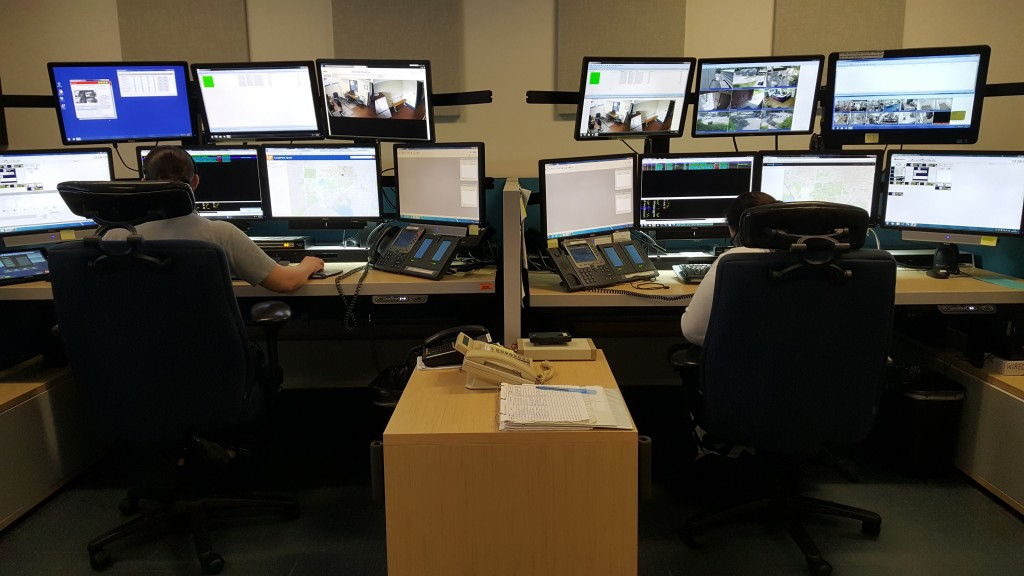 If you have any further questions about the UFPD Communications Division, please contact Patricia Ford-Thomas, Communications Manager Monday-Friday, 8 am to 5 pm, at (352) 392-6995 or email at pfordthomas@ufl.edu
K-9 Unit
The University of Florida Police Department utilizes explosive detection K-9 teams in response to the need for increased security precautions at many of the special events that take place on the university campus. These K-9 teams are also available to assist local law enforcement in bomb detection operations as requested.
The University of Florida has three K-9 teams, consisting of:
Officer Dale Holmes and his Black Labrador Retriever "Boomer"
Officer Kenneth Motes and his Yellow Labrador Retriever "Mike"
Officer Ricky Morgan and his Yellow Labrador Retriever "Apollo"
Officer Sam Sexton and his Black Labrador Retriever "Ruff"
All UFPD K-9 teams have been specifically trained and certified in the search and detection of explosive devices.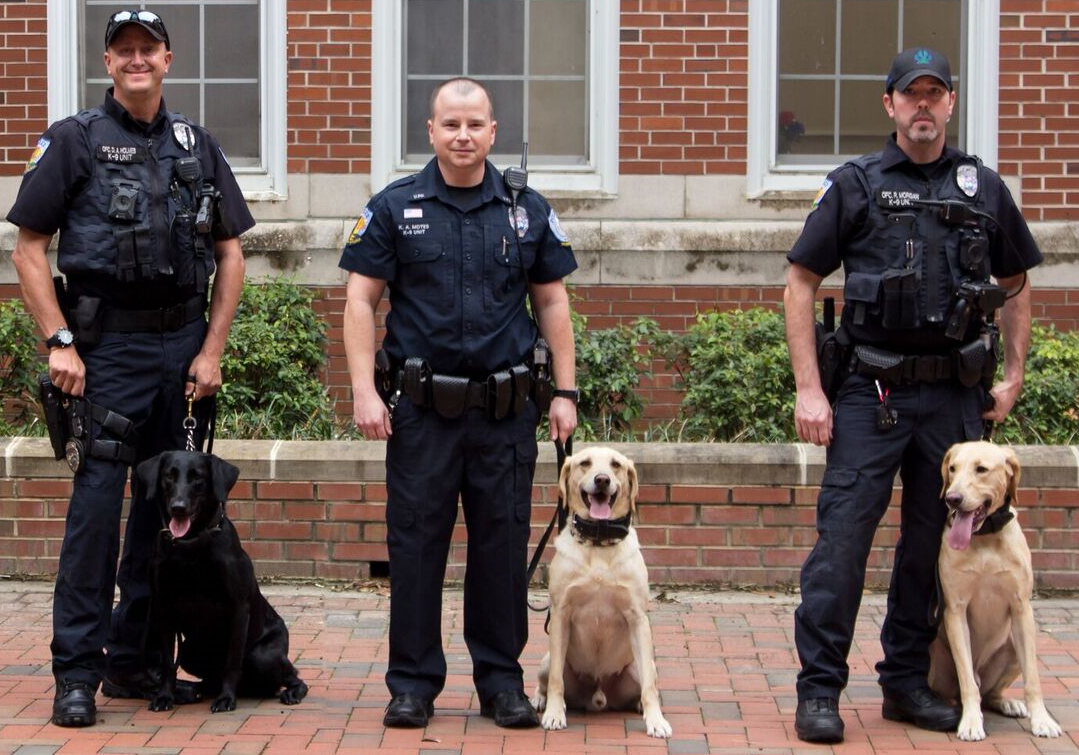 If you would like more information about the UFPD K-9 Unit, please contact the UFPD Public Information Officer via email at UPD-PIO@ad.ufl.edu.
Special Events Division
Every year the University of Florida is host to thousands of visitors from football games to concerts to community events. Outside of daily operations, the University of Florida Police Department's Special Events Division handles the logistical and operational management of these special events taking place throughout campus.
This Division is headed by a Lieutenant who coordinates interdepartmental functions, liaises with other law enforcement agencies and other entities within the UF community such as UAA, and assigns personnel to specific duties for the event.
If you need law enforcement for a special event, please complete the Special Events Request Form or contact Lt. Scott Summers at (352)273-3314 or via email at ssummers@ufl.edu.
Please be aware that your event may have a cost associated due to the personnel and security measures provided. Please review the document below for more information.
Reserve Officer Program
The University of Florida Police Department, located at the intersection of Museum Road and Newell Drive, provides service to the university community 24 hours a day, seven days a week, 365 days a year. The police department is an integral part of the university's dedication to developing and maintaining a safe and secure campus environment through the cooperative efforts of many university departments and community organizations.
An important part of the complete success of the police department includes the part-time officers that provide the same quality service to the university community as full-time officers. In 1988, our department initiated the Reserve Officer Program to afford interested individuals an opportunity to participate in campus law enforcement operations. Reserve officers assist full-time officers with crowd and traffic control, work details at campus special events, and assist full-time officers in their regular patrol duties. The police department is dedicated to providing our Reserve Officers with professional training and practical law enforcement experience.
All Reserve Officer applicants must meet the following minimum requirements for consideration in this elite Reserve Officer program. You must be a citizen of the United States, be at least 19 years of age, and possess a valid driver's license maintaining a good driving record. Applicants must also have a high school diploma or equivalent, and must have completed the Florida Criminal Justice Standards and Training Commission (CJSTC) requirements necessary for officer certification. Reserve Officer applicants are strongly recommended to have close ties to the University and its community. All applicants are subject to pass a background investigation, an oral review, a voice stress analysis test, a drug screen, and a medical examination.
All Reserve Officers receive hands-on training by attending a highly structured training program designed to provide the officer with practical experience in the working environment. Reserve Officers also receive required quality training in human diversity, domestic violence issues, medical first responder, community services, high-risk driving, firearms, and defensive tactics. Reserve Officers with the University Police Department receive high quality training and education regarding various aspects of the criminal justice system. A large percentage of Reserve Officers have transitioned into a full-time position after gaining experience in the reserve program.
If you are interested in gaining experience in a part-time capacity at a state and nationally accredited law enforcement agency, contact Lt. Alton McDilda (amcdilda@ufl.edu) with the University of Florida Police Department by calling (352)273-3314. You can also write or stop by the University of Florida Police Department located at Building 51, Museum Road, PO Box 112150, Gainesville, FL., 32611-2150.
Student Community Oriented Police Effort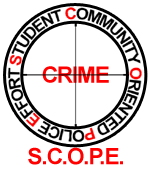 The primary mission of the University of Florida Police Department (UFPD) is to provide protection and service to the University community. The UFPD is committed to the prevention of crime and the protection of life and property; the preservation of peace, order, and safety; the enforcement of laws and ordinances; and the safeguarding of constitutional guarantees.
With community service as the foundation, the UFPD is driven by goals to enhance the quality of life, investigate problems and incidents, seek solutions, and foster a sense of security through programs reflecting the needs and desires of the community. The UFPD nurtures public trust by holding itself to the highest standards of performance and ethics.
The goals of the Student Community Oriented Police Effort (SCOPE) are to:
Create a crime prevention partnership between the University of Florida's Housing & Residence Life, resident students, and the UFPD.
Increase the visibility of the UFPD members throughout the various housing locations.
Inform the Housing personnel and resident students of variables influencing the level of crime on campus and recommend crime prevention methods.
Enhance transparency and communication between the Housing personnel, resident students, and the UFPD, thereby increasing the level of trust and understanding of one another.
For more information about your SCOPE Officer, please review the SCOPE Bulletin Board or electronic board posted within your residence hall or Graduate and Family Housing common area.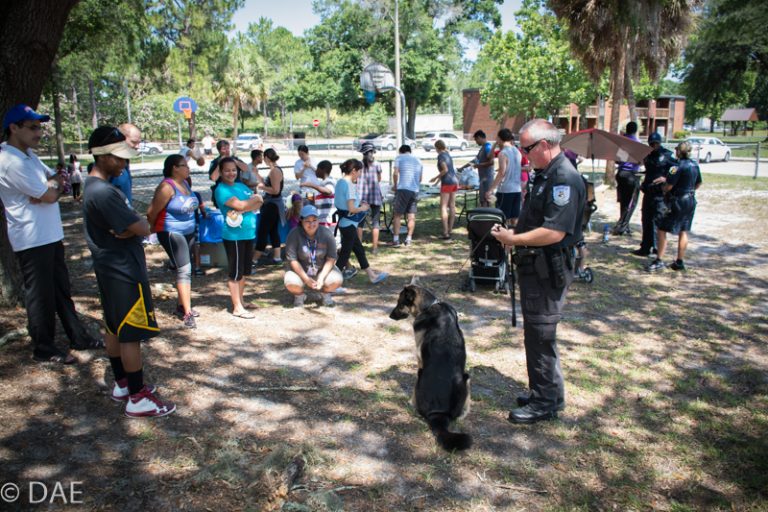 Health Science Center Security
Staffed by Police Service Technicians (PST's), security is provided to the Health Science Center (HSC) complex 24 hours daily, every day of the year.
In addition, a shift officer is assigned to this area 24 hours daily to provide a more immediate response to crimes and emergencies.
The PST's provide security both inside and outside the complex, not including the interior of Shands Hospital. The PST's also perform vehicle patrols of the parking lots, garages and exterior grounds of the complex and related buildings.
PST's are available to provide walking and vehicle escorts for staff and students from the Health Science Center to their vehicles at night. Please contact UFPD Dispatch at 352-392-1111 to request an escort.
The PST's at the HSC are responsible for securing the facility, providing escorts and general assistance to the students, faculty, staff, and visitors at Shands Hospital and the HSC. The PST's also assist with UFPD community outreach programs such as bicycle registration and bicycle safety events, as well as, Coffee with a Cop.